Shajarehnaameh Project
E'tezad Mozaffar-Qajar (Kadjar)
Hossein Ali Mirza E'tezad Saltaneh
Eldest son of Mohammad Ali Shah Qajar
Ancestor of the E'tezad Mozaffar-Qajar Family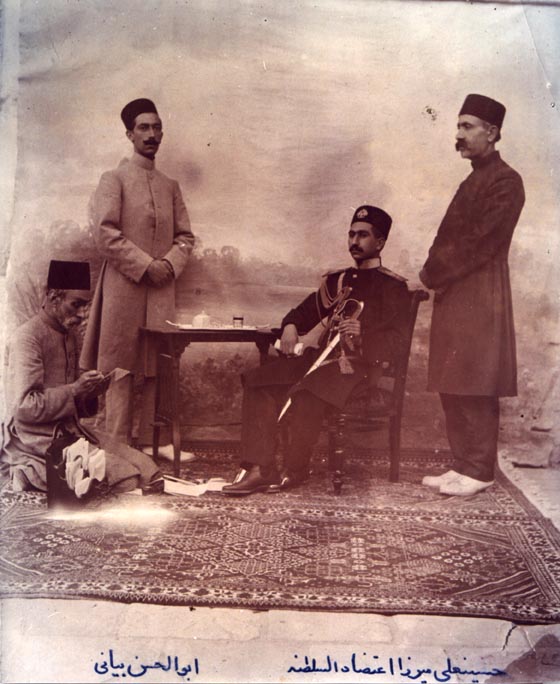 The above picture shows Prince E'tezad Saltaneh as governor of Esfahan, in his office surrounded by attendants and his private secretary. This picture shows the uncanny resemblance of Hossein Ali Mirza to his father, Mohammad Ali Shah Qajar (Kadjar). This never before seen picture of Hossein Ali Mirza, was given to us through the kindness of Mr. Bahman Bayani whose own grand-father, Abol Hassan Khan Bayani Nayeb-ol-Hokama for Esfahan, is in this picture also, on the left (standing).
Ancestor: Mohammad Ali Shah Qajar
____________
Hossein Ali Mirza E'tezad Saltaneh (b. 1896-d. 1953 Tehran) was the oldest son of Mohammad Ali Shah. Hossein Ali Mirza E'tezad Saltaneh's mother, Robabeh Khanoum "Malih-e Saltaneh," was not of Qajar origin and was not Mohammad Ali Shah's aghdi wife. On account of this fact, the succession to throne went to Soltan Ahmad Mirza, Mohammad Ali Shah's second son, born of Princess Malekeh Jahan Khanoum, daughter of Kamran Mirza Nayeb-Saltaneh. The descendants of Prince E'tezad Saltaneh have taken the family name E'tezad Mozaffar and reside today in Iran. They are first and second cousins to the other children of Mohammad Ali Shah Qajar (Kadjar), but are not in direct line for the Qajar (Kadjar) throne.
Prince E'tezad Saltaneh married twice. From his first marriage to his cousin Princess Ghamar Dowleh, daughter of Prince Abol Fath Mirza Salar-ed-Dowleh (Mozaffar-ed-Din Shah's son), there are two children: Prince Akbar and Prince Asghar E'tezad Mozaffar. From his second marriage, there are seven children: Dr. Asadollah E'tezad Mozaffar, Prince Hamzeh, Prince Abbas, Prince Nasrollah, Princess Soudabeh, Princess Soraya, and Princess Safourah. Each of the nine children of Prince E'tezad Saltaneh have descendants. The list of their children will be published here soon also.
___________
Source of Picture: Private Archives Mr. Bahman Bayani.