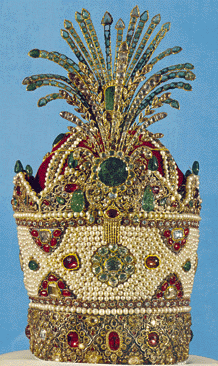 The Qajars (Kadjars) and the Pahlavis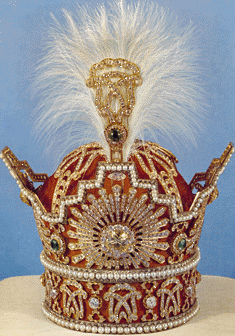 Again, the fact that the Pahlavis and the Qajars (Kadjars) are related is little known, and often not emphasized. The relationship is not old; it only started with Reza Khan; and it is not reciprocal: only the Pahlavis married into the Qajars (Kadjars), but not vice-versa. But that there was intermarriage between the two families is not unusual: intermarriage among ruling families is a tradition that is almost universal. In Iran that tradition also held for families that supplanted each other. Just as Agha Mohammad Khan Qajar (Kadjar) married Shahrokh's (Afshar) beautiful daughter Golrokh, while simultaneously eliminating all his rivals from the Afshar and the Zand dynasties, so Reza Khan, later Reza Shah Pahlavi, took two Qajar (Kadjar) wives. For Agha Mohammad Khan tradition dictated this union. For Reza Khan, necessity and shrewdness.
The first was Touran (Qamar al Molouk) Amir Soleymani, the daughter of Issa Majd-e Saltaneh and grand-daughter of Mehdi Qoli Majd-e Dowleh, Nasser-ed-din Shah's maternal uncle. Reza Khan married her in 1922 and they divorced in 1923. From this marriage was born Gholam Reza Pahlavi, Mohammad Reza Shah Pahlavi's younger half brother. Reza Khan also married Princess Esmat Dowlatshahi, the daughter of Prince Mojalal-e Dowleh Dowlatshahi-Qajar (Kadjar) in 1923. From this marriage four sons and a daughter were born. They are Abdol Reza, Ahmad Reza, Mahmoud Reza, Fatemeh and Hamid Reza Pahlavi.
Mohammad Reza Shah Pahlavi did not continue the tradition of marrying into the Qajar (Kadjar) family, he instead chose first the sister of King Faroukh of Egypt and then Soraya Esfandiary and Farah Diba, respectively, both from prominent non-Qajar Iranian families. However, his brother, Gholam Reza Pahlavi, who already had Qajar (Kadjar) blood through his mother Touran Amir Soleymani, married another Qajar (Kadjar) princess, Manijeh Djahanbani, daughter of General Mansur Djahanbani and Lida Khanoum Djahanbani, one of Ahmad Shah's earlier wives and a Djahanbani (Qajar) by birth herself. There are three children from this marriage: Azardokht Pahlavi, Maryam Pahlavi, and Bahram Pahlavi, who are all, therefore, three fourths Qajar (Kadjar)!
Thus the Qajars (Kadjars) and the Pahlavis too are connected, though their connections, by the nature of the circumstances under which they occured, were not as warm as those of the Qajars (Kadjars) and the Ottomans, with whom the Qajars (Kadjars) had longer lasting blood ties and friendlier relations.
_________________________
Sources:
Almanach de Bruxelles, "Pahlavi Dynasty".
Cyrus Ghani, "The Self-Made King," in The Iranian, February 22, 1999.
Prince Soltan Ali Kadjar, Les Rois Oublies, Edition No1/Kian, Paris, 1992.
Princess Mehranguiz Dolwlatshahi, interview, Paris, Spring 2000.