Firouz Mirza, Nosrat-Dowleh
Prince Firouz Mirza Nosrat-ed-Dowleh III, eldest son of Prince Abdol Hossein Farmanfarma and Princess Ezzat-Dowleh. Grand-son of his name-sake, Firouz Mirza Nosrat-Dowleh I, and of Mozaffar-ed-Din Shah Qajar (Kadjar) through his mother Princess Ezzat-Dowleh.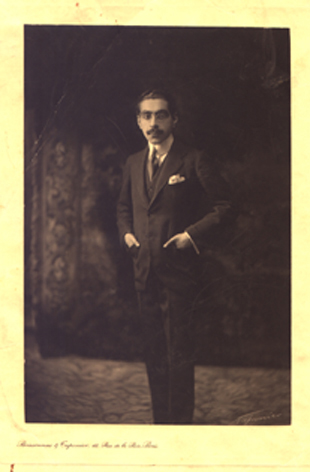 Minister of Foreign Affairs under Ahmad Shah Qajar (Kadjar); architect of the ill-fated 1919 Anglo-Persian agreement; candidate for accession to the Qajar (Kadjar) throne after Soltan Ahmad Shah's exile and removal; minister of finance under Reza Shah; and finally prisonner of Reza Shah, later to be excecuted as a dangerous rival, along with Seyyed Hassan Modaress and Abdol Hossein Teymourtash, the famed Minister of Court of Reza Shah.
Here is what his brother, Prince Manouchehr Farmanfarmaian, recalls of Nosrat-ed-Dowleh in his book Blood and Oil: Memoirs of a Persian Prince. Random House, New York, 1997, pp. 40-43.
"... Our living room, ... , served as the setting for many of my father's encounters with his four eldest sons, the children of Princess Ezzat-Doleh, who were all considerably older than the rest of us. The most resplendednt one was Nosrat-Doleh, the eldest, who, like the next in line, Salar-Lashkar, had obtained his title from my father. In his late thirties at the time, Nosrat-Doleh was erudite, vastly wealthy, and, despite his diminutive size, a commanding presence. ...

When he was thirty-five, Nosrat-Doleh became minister of foreign affairs under the last Qajar monarch, Ahmad Shah. It was in this capacity that he authored, along with his best friend, Sarem-Dowleh, then minister of finance, and Vosugh-Doleh, prime minister, the infamous Anglo-Persian Agreement of 1919. Although it obtained for Persia a much-needed loan of 2 million pounds, it gave in exchange complete control of Persia's army (what there was of it) and treasury (which was empty) to Great Britain. The agreement was never ratified, but the British were so taken with Nosrat-Doleh that at one point they tapped him as their candidate to take over the throne. When the throne passed instead to General Reza Pahlavi after the military coup, Nosrat-Doleh nimbly transferred his allegiances, and in 1927 he was back in the political saddle as Reza Shah's minister of finance. ...

Only once did I perceive any tension in our household over Nosrat-Doleh's political affairs. It was late afternoon. I must have been about seven. Running past the living room, I glanced through the half-open curtain at its doorway and saw my father sitting under the hot korsi with his old friend Seyyed Hassan Modaress, a highly respected and controversial mollah who was a member of the Majles (parliament). My father was feeling sick as a result of his gout and was running a fever. His face looked red against the white cloth of the korsi. On top of the korsi at one of the corners sat Nosrat-Doleh, a glittering diamond pin in his silken tie.

I crouched in the curtain and watched. Seyyed Hassan Modaress was pointing at Nosrat-Doleh. "It was your fault," he shouted, his face purple with rage. "Were it not for what you did, the country would not be where it is today."

I was too frightened to hear more and, shivering, ran away, not understanding anything of what was being said. I did not know Nosrat-Doleh had been a candidate to be shah. Or that he had been a cabinet minister under the Qajars, serving as Iran's point man on oil. Neither did I know that he had switched loyalties and that he was well ensconced in the new Pahlavi regime, still negotiating the terms of oil, still riding high. He was just my brother--an important man, of course, but everyone in my father's household was important."
Below is a picture of Nosrat-ed-Dowleh, in later years, standing beside his father, Abdol Hossein Farmanfarma. This picture was taken at Farmanfarma's daughter's wedding, Princess Jabbareh, Nosrat-ed-Dowleh's half sister. The little boy in the picture is Farmanfarma's youngest son, Prince Abdol Ali.
See also the Farmamfarmaian family tree by clicking here.