Portraits and Pictures of Soltan Ahmad Shah Qajar (Kadjar)
The task of gathering together rare pictures and portraits of Soltan Ahmad Shah, the last ruler of the Qajar (Kadjar) dynasty, is a lengthy one. Thus, this segment of our page will be in development for a while longer. What we can offer so far are a few portraits with commentaries that span most of Soltan Ahmad Shah's public life. The hope will be to gather more intimate and less well known portraits of Soltan Ahmad Shah, particularly more, if they exist, of his time in exile shortly before his untimely demise in 1930.
For now we hope the present small collection is instructive and useful.

Soltan Ahmad Shah Qajar (Kadjar)
Last Shah of the Qajar (Kadjar) Dynasty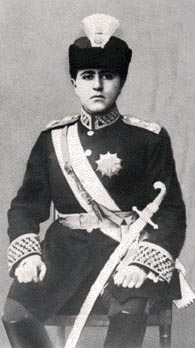 Soltan Ahmad Shah in coronation day regalia.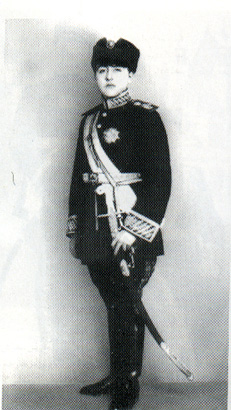 This picture was taken at the same time as the more widely circulated picture of Ahmad Shah seated with his valiahd, Mohammad Hassan Mirza, copies of which were favorites in many of the princely homes of my father's generation, including our own.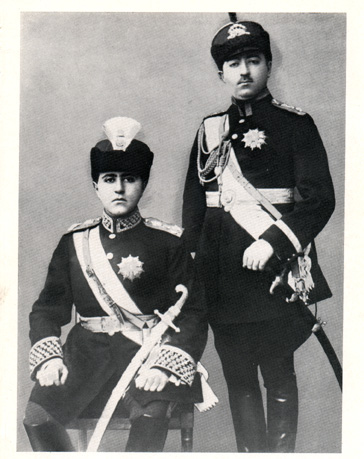 * * * * * * * *

One of the many pictures showing the melancholy side of the young shah, who is said to have wept bitterly when he was left behind by his father Mohammad Ali Shah to rule the country while his father was forced into exile by his political enemies in the name of the Constitutional Revolution of Persia. Soltan Ahmad Shah is ten or eleven years old here. A painting with an almost identical pose but of a younger Ahmad Shah hangs in the residence of his nephew and present Head of the Imperial Kadjar House, Soltan Ali Mirza Kadjar.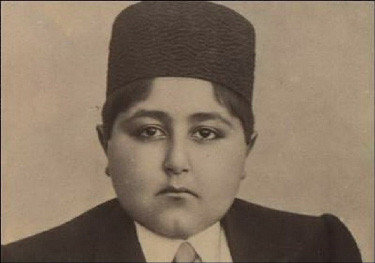 This is a rare picture of Soltan Ahmad Shah at 13.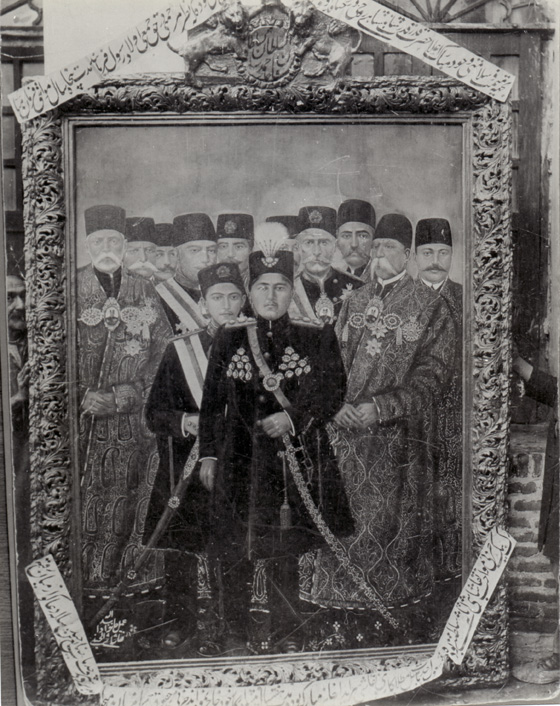 Painting from Golestan collection depicting Soltan Ahmad Shah, his brother and crown prince Mohammad Hassan Mirza, and various grandees of the court. The occasion is probably the ascension of Ahmad Shah to the throne, since the regalia are those of a monarch and not of a minor under a regency. Note the size of the painting! it is held up by two servants visible on both sides of the huge gilded frame to the right and left of the painting. (Copyright M.M. Eskandari-Qajar)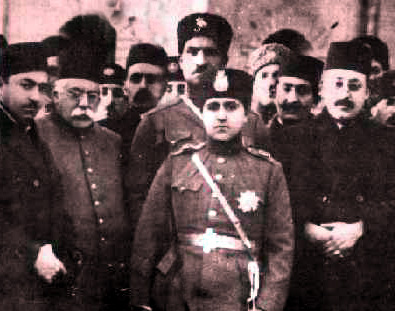 A picture of Soltan Ahmad Shah in military uniform with prominent members of his court near the end of World War I. Behind him stands the man, Reza Khan, who would overthrow Soltan Ahmad Shah with the help of the British only a short while after this picture was taken. To his right stands, Abdol Hossein Mirza Farmanfarma, one of the most prominent Qajar (Kadjar) princes. He and his son Nosrat-Doleh (Firouz Mirza) would subsequently play decisive roles in the early years of the Pahlavi regime under Reza Shah.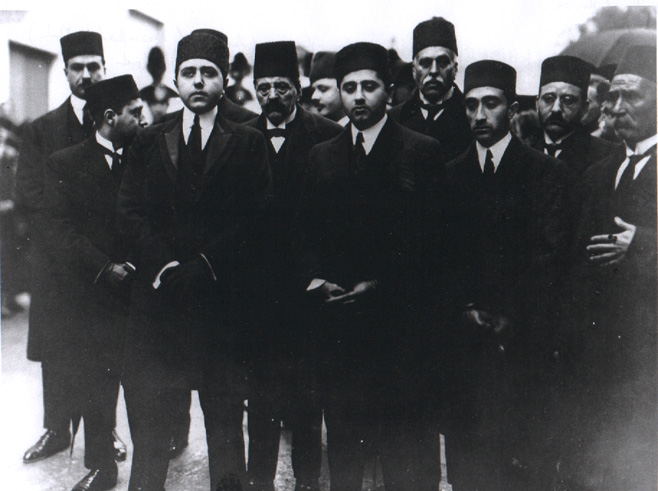 A rare picture of Soltan Ahmad Shah and his two brothers Soltan Madjid Mirza to his right and Soltan Mahmoud Mirza to his left (center of picture). The occasion is the funeral of Soltan Ahmad Shah's father, Mohammad Ali Shah, in San Remo in April of 1925. Next to Soltan Mahmoud Mirza stands his brother-in-law Fathollah Mirza, Shoa' Saltaneh, son of Malek Mansour Mirza (2nd son of Mozaffar-ed-Din Shah) and husband of Princess Khadijeh (Khanoum), Hazrat-e Ghodsieh, daughter of Mohammad Ali Shah. The individual standing behind Soltan Ahmad Shah and between him and Soltan Mahmoud Mirza is Prince Arfa'ed-Dowleh, father of General Hassan Arfa'. Four years after Reza Khan's coup, Soltan Ahmad Shah is still shah but will soon be deposed when Reza Khan will declare himself shah a year later. This picture is thus one of the last ones while Ahmad Shah is still shah. (Photo courtesy of Soltan Ali Mirza Kadjar.)
* * * * * * * *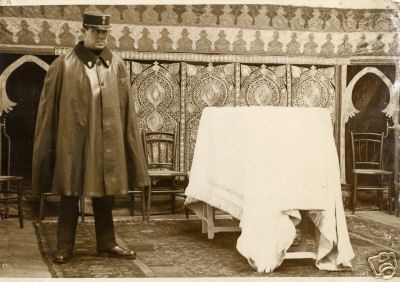 The last remains of Soltan Ahmad Shah lie in state at the Paris Mosque, March 2, 1930 before being transfered to Kerbela to the family cript. Soltan Ahmad Shah passed away the previous day at the American Hospital in Neuilly-sur-Seine.
(Photo: Agence Rol G. Devred, 4 rue Richer, Paris 9th)