Princess Ezzat ed-Dowleh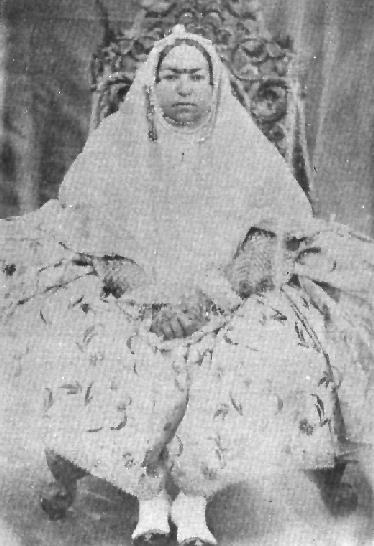 Princess Malekzadeh Khanom Ezzat ed-Dowleh (b. 1250/1834-35, d. 23 Rabi'olthani1323/27 June 1905), only full sister of Nasser ed-Din Shah (1264-313/1848-96), second wife of Mirza Taqi Khan Amir Kabir, and grandmother of Mohammad-Ali Shah (r. 1324-27/1907-09). In 1265/1849, Nasser-ed-Din Shah decided to marry her to his grand vizier, Mirza Taqi Khan. Despite the efforts of the king's mother, Mahd-e Olya, who feared that the union would increase Mirza Taqi Khan's power and diminish hers in the royal court as well as that of her close ally, Mirza Aqa Khan Etemad-ed-Dowleh Nuri, and despite the fact that Mirza Taqi Khan himself had no real desire to marry again, the wedding took place on 22 Rabi'olawwal/17 February 1849. Ezzat-ed-Dowleh bore him two daughters, Taj al-Molouk and Hamdam al-Molouk, but the marriage ended with the fall and execution of Mirza Taqi Khan on 17 Rabi'olawwal 1268/10 January 1852. During the three years that they were married, Ezzat-ed-Dowleh remained loyal and loving toward her husband despite speculations to the contrary. In the same year that Amir Kabir was killed, Nasser-al-Din Shah forced her to marry Mirza Kazem Khan Nezam-ol-Molk, the son of his new grand vizier, Mirza Aqa Khan Etemad-ed-Dowleh. The marriage, which lasted seven years, has been characterized as having been affected by the hate and disgust that Ezzat-ed-Dowleh felt toward her new husband. The few extant letters of Ezzat-ed-Dowleh to Nezam-ol-Molk, however, reveal what seems to be her affection for him. In any event, Princess Ezzat-ed-Dowleh divorced Nezam ol-Molk and married her cousin Anoushirvan Khan Ayn-ol-Molk, with whom, according to Bamdad (Rejal II, 157), she already had an affair. Ayn-ol-Molk died in 1285/1868, and Princess Ezzat ed-Dowleh was married (until 1309/1892) to Mirza Hossein Khan Sepahsalar's brother, Yahya Khan Moayyer ed-Dowleh, and later to Sepahsalar's secretary, Mirza Nasr-Allah Khan. Princess Ezzat ed-Dowleh's daughter, Taj al-Molouk Omm al-Khaqan, married crown prince Mozaffar ed-Din Mirza and bore him a son, Mohammad Ali Mirza (later Mohammad-Ali Shah). Thus Mohammad Ali Shah is the grandson of both Nasser ed-Din Shah and of Mirza Taghi Khan Amir Kabir.
(Adapted from Encyclopedia Iranica Article by Kambiz Eslami)
Below is a family photo of Mother Mahd-e Olia, Son Nasser ed-Din Shah and Daughter Princess Ezzat ed-Dowleh. This photo is from the private archive of Ambassador Farhad Sepahbody, whose maternal ancestor is Princess Ezzat ed-Dowleh.